Ford was nice enough to send to me a ford fiesta to my home on Father day some months back on 17th June 2012. My father is not such a fan on cars, but it was my mother birthday that day. I decided to give her a surprize and said yes to Ford for sending me the new ford fiesta for a day.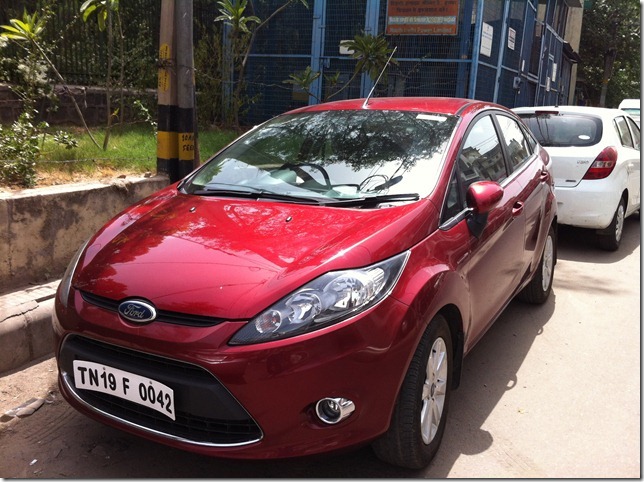 I had been a part of some test riders team for the ford fiesta manual in bangalore so I had great expectations with the new automatic ford fiesta variant this time. Our family decided to go to ambience mall, gurgaon that day we were 6 people and to my surprize all 6 people were easily fit in this great sedan and none of them had a siting space or leg space problems during one and half an hour drive. Below are some things or features of this car I noticed while driving the car for a 2 days.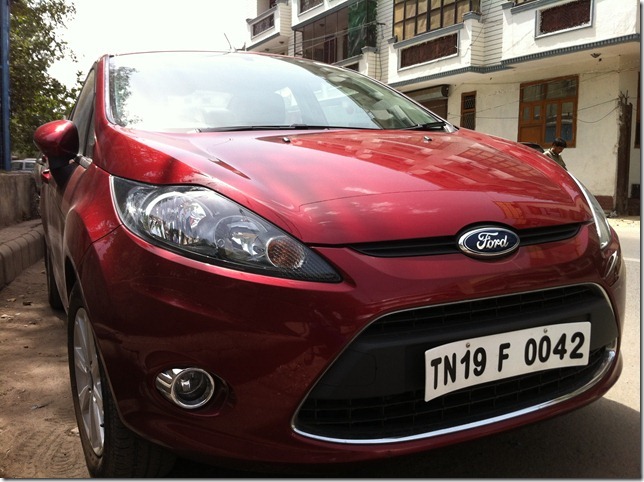 Please Note: All of my views about this car are not sponsored and I am not a car expert so all the text below about the new Ford Fiesta Automatic represents my own perspective as a customer or user who may like to own this car in future.
A Truck On Road Saying – Can You Hear Me ?
One thing which I loved about new ford fiesta was cabin noise reduction, it was an addon over the stress free pleasure experience of Ford Fiesta Automatic, there was a time when a truck was on my side on the road waiting on the RED light, it was making much noise which could have been heard in any other car, but there was very little or no noise heard me siting in ford fiesta which are just on the one side and adjacent to the truck this proves it has one of the best cabin noise reduction.
Stress While Driving On Delhi Roads – Ford Fiesta Automatic Takes It All
If you drive a car on delhi roads, you know what I am taking about here, yes the bitter truth is that in delhi people drive like crazy and given the condition of roads there are more pits than proper road everywhere you go in delhi. Both of these things I almost forgot during a 1 and half hour drive to ambience mall, automatic transmission takes away all the worries as I don't need to worry about shifting gears while driving in bumper to bumper traffic and also while speeding up the car on a empty roads.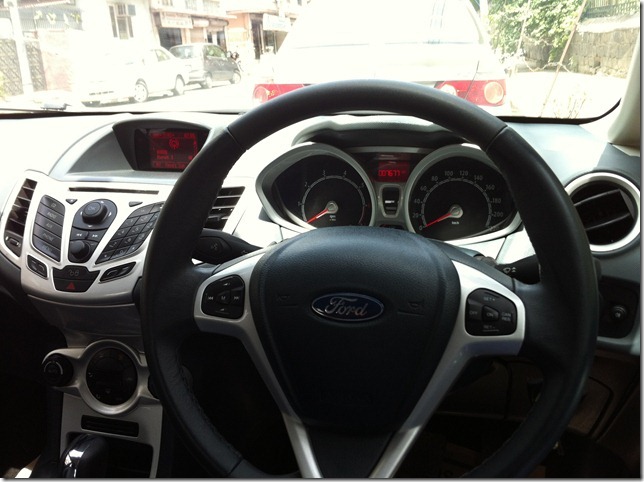 Gear Shifting Almost As Smooth As It Can Be
Another thing which I loved was the smooth gear shift while driving the automatic transmission ford fiesta, while driving when ever I speed up or speed down I could feel the car is changing gears as per the speed by the shift in both ways was so smooth and that one will not notice while driving if you are driving smoothly but if you give sudden acceleration you will hear a loud sound while shifting of gears but that way I would recommend that guy a manual than the automatic transmission car.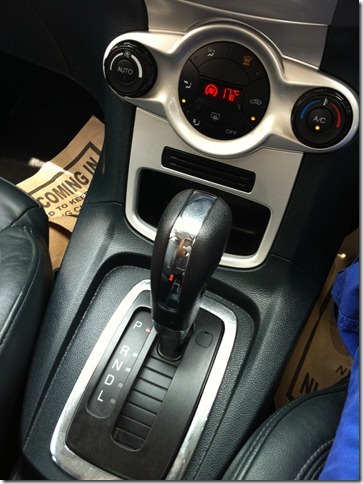 How Much Will It Will Run Before Running Out ?
As per my previous experiences, I always thought that any car with automatic transmission can never good mileage, but this time the new ford fiesta automatic proved me wrong, the car was handed over to me petrol tank full, after a complete round trip to ambience mall which is around 25 km away from my place it was only 10 % empty. During the trip, i had to drive the car in tight traffic on busy red lights with around 15 –20 minutes spend both ways on gurgaon toll.
Power Shift Technology, Does It Really Matter ?
Yes, Ford Fiesta has this amazing feature which proved to be a great support while driving as it makes the car more smoother than any other automatic transmission in this segment. There is no perceptible jerk as the car switches gears. Upshifts and downshifts are handled effortlessly.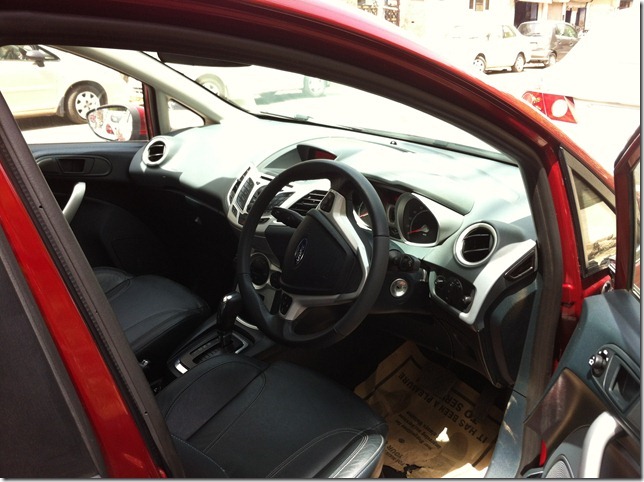 Don't Worry I Will Handle It For You
The feature about which I am stressing here is hill launch assist feature which actually came in help around 2-3 times during my driving run, there was a time when I was driving a road with inclined slope with bumper to bumper traffic, I tested the hill assist feature by removing my leg from brake and intentionally did not pressed the accelerator and I did notice that the car was still for around 2-3 seconds and it gave me good amount of time to shift my leg from the brake to accelerator peddle.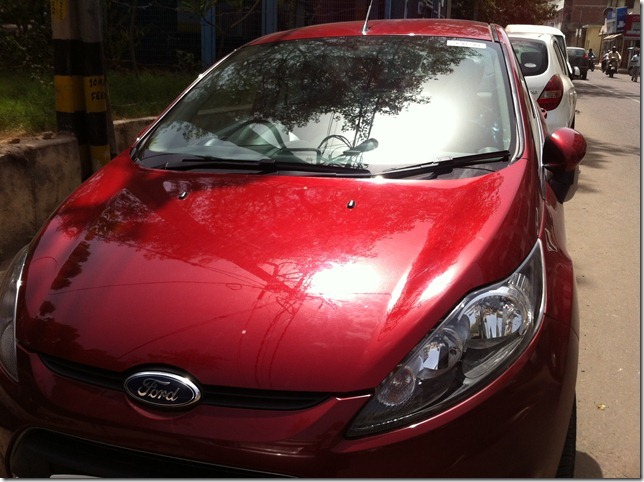 Cruise Control Rocks
This is another feature which I liked the most in ford fiesta, I have tested this feature in manual transmission ford fiesta on the Bangalore – Mysore highway and loved it, however I was not able to test this feature in automatic ford fiesta.
Voice Control Does What You Say
Ford Fiesta does come with the great unique feature which lets you control some car features using voice like you can tune to a FM radio using voice commands, you can also change AC temperature and even more I paired my phone with bluetooth with the car and dialled a number using the voice control feature.
Other Good Features In Ford Fiesta
Apart from these all mentioned above, there are some features which I liked about the cars like
Electronic Stability Programme (ESP) Which helps the driver maintain control of the vehicle under unexpected driving conditions
Greater safety features: Front dual airbags, construction with ultra-high strength steel and boron steel reinforcement provide better protection
Nice Sharp Curved Kinetic Design – I did noticed sweeping bold lines, sculpted, clamshell bonnet and prominent wheel arches drive its attractiveness
Rear Parking Sensors do give you feel better control while reversing the car
Climate Control was also so good to cool the car properly and maintained the right temperature and that too can also be guided by voice-control
Conclusion
In all I loved the car, would love to consider on my next car purchase and recommend to any one who is looking for a great comfort and pleasure driving experience in this segment. It comes in the price segment at a starting price of Rs 8.99 lakh (ex-showroom Delhi) for its basic Style variant and Rs 9.70 lakh for the high-end Titanium + (ex-showroom Delhi), which is quite understandable considering the basic high price range for the manual cars to begin with.